Memory Care Services in The Villages, FL
Expert Cognitive Support Services in The Villages, FL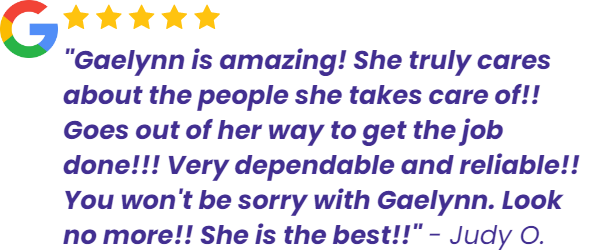 Memory Care services in The Villages, FL
Strengthen Your Mind with GaeLynn's Home Care Cognitive Support & Memory Care Services
Accepting private pay, long-term insurance and medicaid
At GaeLynn's Home Care, we understand the challenges that come with age-related cognitive decline. That's why we offer comprehensive cognitive support and memory care services in The Villages, FL, to help you maintain and enhance your mental abilities. Our experienced caregivers, homemakers, and companions are equipped with the necessary skills to provide personalized cognitive support tailored to your needs.
Customized Cognitive Support for a Healthy and Engaged Mind
Our cognitive support services focus on the following areas to ensure your mental well-being:
Daily task assistance to help you stay organized and on track

Memory exercises to improve recall and strengthen cognitive function

Engaging activities to stimulate mental acuity and promote social interaction

Emotional support to foster a positive and encouraging environment
Expert Caregivers Committed to Your Cognitive Health
Licensed | Accredited | Insured | Top-Rated
With years of experience in supporting individuals with cognitive challenges, GaeLynn's Home Care is confident in our ability to make a positive impact on your life. Our cognitive support services not only provide peace of mind for you but also for your family and friends who care about your well-being.
GaeLynn's Home Care offers exceptional cognitive support services to clients in The Villages, FL, focused on enhancing mental abilities and maintaining a high quality of life. Contact us today to learn more about how our cognitive support services can empower you and your loved ones to live a mentally healthy and fulfilling life.
Have Questions? We're here to help. Contact us today!
Submit the form below and one of our care coordinators will be in touch shortly