Expert Technology Help For Seniors in The Villages, FL
Simplify Your Life with Technology Help from GaeLynn's Home Care in The Villages, FL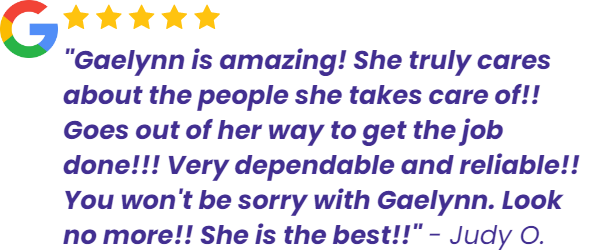 Technology Help For Seniors In The Villages, FL
Your Easy Access To Technology Assistance
Accepting private pay, long-term insurance and medicaid
At GaeLynn's Home Care, we understand that using and monitoring technology can be confusing, exhausting, and stressful. That's why we offer comprehensive technology help for seniors in The Villages, FL, to help with all your IT needs. From staying connected with loved ones to ensuring your home security system is up-to-date, GaeLynn's Home Care has you covered.
Stay Connected and Secure with Our Technology Support Services
As the world evolves and technology becomes a primary source of communication, we want to ensure you have the support you need to stay connected and secure. GaeLynn's Home Care can help you:
Connect with family and friends using various communication tools

Ensure your home security system is up-to-date and functioning properly

Make using your cellphone more user-friendly

Set up smart home devices, like Amazon Alexa, for reminders and assistance
Assistance with Everyday Technology Tasks
Licensed | Accredited | Insured | Top-Rated
Whether you need help setting up a Zoom conference with your doctor or configuring your Amazon Alexa device for appointment reminders, GaeLynn's Home Care is here to provide the technical support you need. Let us simplify your life by handling your IT needs so you can focus on what matters most.
Contact GaeLynn's Home Care today to learn more about our technology support services in The Villages, FL, and let us help you stay connected, secure, and stress-free.
Have Questions? We're here to help. Contact us today!
Submit the form below and one of our care coordinators will be in touch shortly